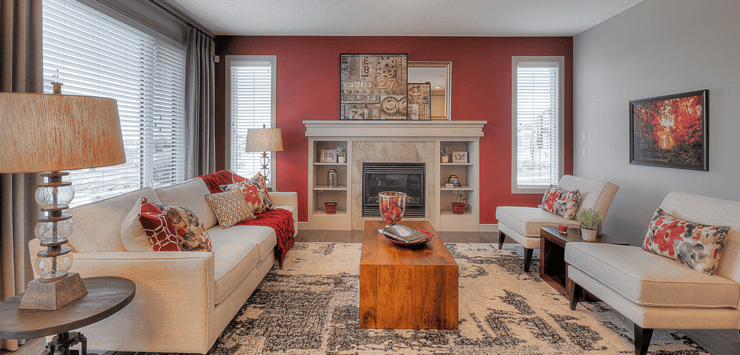 In considering the pros and cons of an open concept floor plan, you've likely reached the conclusion that they provide homes with great looks and increase versatility in any living space.
As you stand and admire your open concept area, though, you're likely wondering how to properly decorate this vast space. You want the space to look inviting - that goes without saying - but it also needs to be functional.
We think these ideas will help you create a solid design vision that makes the most of these open spaces.
Coordinate Everything with Colour
Even though your design elements require individual attention, you should also keep your bigger picture in mind. Because your open space is also part of a whole, you should keep this in mind while doing your designing.
A constant colour scheme throughout your area is one of the easiest ways to bring things together. Consider whether your chosen shades are easy on the eyes or not, as an open space isn't the best setting for getting experimental with your colours. A neutral shade as the dominant colour with one or two bolder shades for contrast is usually a winning combination.
You can use décor tips to nail the neutral look, such as making use of textures, patterns, and prints that are similar to add cohesion to your space. Make sure there's at least one tie-in with any grouping, regardless of whether your design grouping includes furniture, textiles, or wall art.
Don't Discount Your Negative Spaces
That empty area around every element, also known as a negative space, plays a larger role in design than many realize. In areas that use an open concept, the way this space is used has special importance.
If you've ever wondered why it's somewhat common for open spaces to veer towards minimalism, this concept helps effectively explain why. While open concept spaces offer more area to cover, you should avoid the temptation to add more because of this – your space can quickly look cluttered and unorganized.
Use furniture and other pieces that have aesthetic and functional value, and are also sized in proportion to the room. If your pieces are too small, they'll look out of place, but if they're too big, there may not be enough negative space. A good rule of thumb is to leave enough empty space to create areas for walking through the room. There always needs to be enough space for people to walk through the area unhindered, especially during family gatherings.
This design tip for more functionality at home serves a two-fold purpose by increasing the room's usability while also giving your eyes a chance to rest.
Create Distinct Zones
If your open area is used for more than one activity, zones help provide distinction while keeping everything stylish. A rug or carpet can help provide a boundary for your biggest area, although you probably want to avoid using rugs for every zone to avoid clutter.
A kitchen design idea for your active family would be a centre island, which serves the purpose of functionality, while also breaking up the space. A tall bookshelf or another type of furniture commonly used as a divider can be helpful as well.
Never Overlook Your Focal Points
Traditional principles associated with interior design are also very important where open concept spaces are concerned. Most designers will say that more than one focal point is necessary for an open concept. You'll need to choose a focal point for each separated grouping, so consider your options very carefully.
An effective way to highlight a focal point is through lighting. Fixtures that easily draw a lot of attention, such as pendant lighting and chandeliers, are ideal for setting focal points. Other areas you may want to consider using as focal points include your built-in bookshelves, your fireplace, or statement furniture.
Create a Sense of Balance
Balance is always essential in an open-concept room. In your living room design, for example, you may hang a painting on either side of a fireplace instead of just putting a painting on one side. The furniture should also have some balance, which is easy to accomplish by using two sofas, or a sofa across from two chairs and a table placed to match the width of the sofa.
Creating Distinctive Play and Work Areas
Open-concept areas serve their best purposes when they're fully functional. Create the spaces around these functions, rather than figuring out how you'll fit the functions in afterwards. A game-playing or homework area works well for kids, as well as craft or hobby areas for all ages. A work area can also be helpful if you don't intend to have a separate room as an office.
Open concept designs offer some of the greatest flexibility for homeowners. You can easily customize the space according to your needs, which is what a lot of people want from this concept. However, it's not challenge-free, so hopefully, these ideas have given you a little more to work with. If you're still unsure, consider the benefits of using an interior designer!